Monthly Programs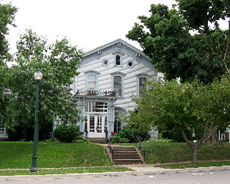 Fourth Mondays*
Cedar Falls Woman's Club
5:00 p.m. Gather and Check in
5:30 p.m. Program

Monthly meetings are virtual until further notice:
Members and guests may use this link to join Zoom meetings:
https://us02web.zoom.us/j/2017201809
Meeting ID: 201 720 1809
Meeting password: Sent to all branch members via email or use the contact us on this page to request the password.
See the Monthly Newsletters for program updates.
September 28, 2020
Human Trafficking 
Joy Fopma,
Development Director with Wings of Refuge
Joy will speak on human trafficking. Wings of Refuge provides opportunities to survivors of sex trafficking or commercial exploitation.
October 26, 2020
Mental Health, Equity, and Diversity.
Tom Eachus,
Director of Black Hawk-Grundy Mental Health and UnityPoint.
Tom will speak about mental health as it relates to our theme of equity and diversity.
November 23, 2020
Bridging the Gap between deaf and hearing communities.
Kei-Che Randle,
Founder of S.T.E.P.S. (Songs to Enhance People Signing).
Kei-Che is deaf and works tirelessly to bridge the gap between the deaf and hearing communities. Kei-Che is the single mother of 2 young children and a UNI grad. She recently moved to CA to become a nurse midwife.
***Programs after the new year may continue via Zoom or switch to in-person.***
January 23, 2021
Saturday Brunch – 10:00 a.m.
EMBARC, Ethnic Minorities of Burma Advocacy & Resource Center
Arlene Prather-O'Kane will lead this panel.
EMBARC strives to serve as voice, friend, mentor, educator, and leader for all the refugees as they make a new home here in Iowa. Our own Arlene Prather-O'Kane and a panel will be presenting.
February 27, 2021
Saturday Brunch – 10:00 a.m.
Diversity Experiences
Abra, Joslyne, and Afi, AAUW Textbook Scholarship recipients will speak about their experience with diversity since coming to the United States to pursue education.
March 27, 2021
Saturday Brunch – 10:00 a.m. 
Current COVID Situation Update
Dr. Sharon Duclos,
Family Practice Medical Director at Peoples Community Health Clinic
April 26, 2021
Annual Meeting
Recognitions, election of officers, and awards
*Unless otherwise noted.