Click on any photo below to enlarge!
2016-2017 Events
2015-2016 Events
Summer and Fall 2014 Events
---
2014 State Conference
Spring 2014 Expanding Your Horizons
2013 Kick-Off Event
Maureen White,

2013 Named Gift Honoree
Annual Kick-Off for 2012-2013
Garage Sale Fundraiser
2012 Annual Meeting
2011 Annual Meeting
2010 Kick-Off Event
CV3D Sneak Peek
2010 Summer Events
2010 Summer Garage Sale
2009-2010 Board
2009-2010 Board Members pictures above: Third row: Myrna Sandvik, Upper Midwest Regional Director; Mary Franke, Secretary; Barb Cardamon and Allaire George; Co-vice Presidents for Educational Foundation; Middle row: Maureen White, President Elect; Mary Fogarty, Vice President for Program; Nancy Henderson, Treasurer; Dee Lynch, Vice President for Membership, Jane Close, Past President; Front row seated: Mary Dove, and Judy Beckman, Co-President; Gloria Tollefson, Past P President Communications Chair
WIM – Woman in History Month
Iowa Heartland Habitat for Humanity Wall Raising
Iowa Heartland Habitat for Humanity Wall raising on March 27, 2010. Three AAUW members were there as site host and sign in the women who were working that day. AAUW Cedar Falls will also serve lunch on April 10.
Game Day January 31, 2010
2009 Kickoff, Bash with Biscotti
Prairie Picnic July 19, 2009
AAUW Bridge Club
2008-2009 Board
2008-2009 Board members pictured above:
Judy Beckman and Gloria Tollefson, Co-Presidents; Mary Forgarty, Vice President for Program; Mary Franke, Secretary; Allaire George, Co-Vice President for Educational Foundation; Judy Focht, Past President; Mimi Zischke, Vice President for Membership; Barbara Cardamon, Co-Vice President for Educational Foundation; Mary Dove, President Elect. (not pictured Diane Davison, Treasurer)
October 2008
On October 25, four AAUW Cedar Falls members attend a reenactment of the Boone suffrage parade of 1908. The original parade and open-air meeting was the first and only parade ever held in Iowa and was one of the first in the United States. The old methods of attracting attention to the cause were tired and no longer working. New more dramatic tactics, borrowed from English women, had to be used if ever the vote was to be gained–thus the march.
The reenactment started at the Boone high school, about 100 women from across the state marched the original route with a band leading the way. The women, dressed in the fashion of 1908, carried banners, sang songs, chanted 'We want to vote" and listened to inspirational speeches given by local women playing the parts of of the first participants. Vintage cars and a parade route lined with folks cheering and clapping added to the feeling of importance to the march.
Other activities of the day included dedication of a suffrage monument, a luncheon featuring desserts of the era, a reception to "Meet the Suffragists", exhibits to explore and an original play written by E. Joyce Schulte in 1995 to enjoy.
The Boone Historical Society, along with along with seven sponsors and ten participating organizations from Iowa, made this event a memorable and enlightening experience for the four local women attending.

August 2008
Fall Kick-off in August!
Exhibits energized us to join interest groups, participate in community action projects and attend the great programs that are planned for our monthly dinner meetings. Prizes were given away at each display.

June 2008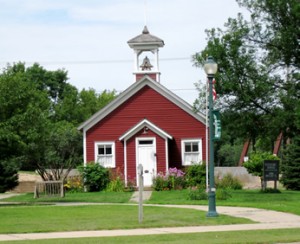 EDUCATIONAL FOUNDATION FUNDRAISER EVENT HELD AT LITTLE RED SCHOOLHOUSE
Rita Congdon, Education Coordinator, for the Cedar Falls Historical Society presented a program in June 2008 about teaching and learning in a one room country school Yes, we sat in student desks, wrote on slates, and had our hands checked for cleanliness. Some of our members felt right at home having gone to a one room school in their early school years.
After the program, a box lunch was enjoyed outside in the gazebo. The Educational Foundation Committee, Melba Widmer, Beverly Lundy and Barb Cardamon was in charge of the event and proceeds were added to the EF fund.
Since the water of the Cedar River was rising fast, we climbed the dike to get a first hand look at what was later to become a record setting flood for our community and others on the banks of the river. The Little Red Schoolhouse was not impacted by the water level.
Also in June:

May 2008
Annual Garage Sale
A cold clear morning greeted AAUW workers and customers for the annual plant and garage sale in early May at the home of Beverly Lundy. Notice Judy Focht in her red winter coat, Barb Cardamon in her blue cap and warm jacket ,and Melba Widmer cuddled up in a blanket as she serves as cashier. Bev Lundy's garage was filled with donated items from AAUW members. The great bargins made customers smile.
Over 800 dollars was raised for EF and LAF.

April 2008
Cedar Falls/ Waterloo Women Attend
Iowa AAUW Annual Conference
April 2008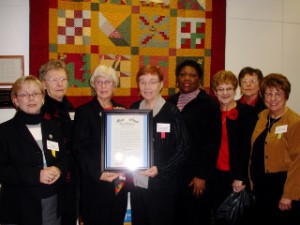 The Annual Conference of Iowa Association of University Women was held on the Simpson College campus in Indianola, Iowa on April 11 and 12. "Common Goals, Uncommon Connections" was the theme. Nancy Rustad, immediate past president of AAUW and Linda Bors, current Association Vice President for Finance, presented workshops on leadership training.
Conference attendees had an opportunity to meet many women who are serving or have served in roles of leadership in Iowa. Former Senator Maggie Tinsman addressed the group at the Saturday luncheon urging women to "Step Up, Step Forward, Take a Risk" by running for office, serving on community boards, joining groups that promote the causes of women and girls.
Three AAUW Fellows shared how AAUW has made a difference in their lives as they work on their dissertation studies. All three are studying at universities in Iowa.
Two current issues facing women today were emphasized: pay equity for woman and stopping violence against women. Both issues are at various stages in the US Congress legislative process. AAUW supports both issues with direct lobbying, letter writing and signing petitions at the national, state and local levels.
Iowa AAUW presently has one thousand members in thirty branches, and contributed $22,834.99 in the year 2007 to projects designed to advance equity for women and girls through advocacy, education, and research.
Pictured above: Jane Close, Neysa Picklum, Judy Focht, Myrna Sandvik, Sheila Bullock (Waterloo) Judy Beckman, Ardelle Brown and Louise Conklin (Waterloo) gather around a framed copy of Governor Chet Culver's proclamation declaring that April 22, 2008 be designated Pay Equity Day.